My brother's stepdaughter walks with me to the mailbox and tries to stand in my shadow the whole way. It's too near noon, but I'm wide. We stop at the edge of the pavement to let a car pass, and she asks why the mail keeps coming, why they don't bring it all at once. It's a good question, I tell her. I imagine it has to do with sentimentality, indirectness, some age-old politeness no one any longer understands. I let her pull the door down and carry the short stack of envelopes from inside. It's all junk. I push in my outgoing letter and close the door, but then I have to think about it a minute before lifting the flag. And then it's done.
We walk back to the house. Sammy's made us all a ham sandwich, put some Cheetos on a paper plate, and him and the girl sit to eat. I know a bite or two's the best I could manage, so I just leave mine. I go back to the bedroom, pack up some more shit. House dresses, nightgowns, slippers, a bathrobe. I haven't even started on the bathroom yet. I carry another box out to Sammy's truck and light a cigarette. The sun feels like it's burning right down on top of me, like any moment I'll melt to a stub of wax. I'm casting no shade now. I'm paying six months' rent on a storage unit, and if she ain't come by then then it ain't on my head.
They finish eating. She goes out to the swing set in the yard, and Sammy waits on me. I take my two bites of sandwich over the kitchen sink, and then we go back to work. He says he feels like prowler, a snoop, handling other people's things. I tell him there's less to see than he thinks. We work through the house, and every so often I think about setting something aside, to keep. A silver-framed picture of us, a candle, a paperback book with the pages still dog-eared. I don't let myself, not yet. We load until the truck's full, it's stacked high and overflowing, and then we load ourselves. Little Bit back in her car seat. Sammy bounces us down the drive. That flag on the mailbox waves at me like a champ, arm high. Or it's a finger, it'll see me in hell. It just sits and waves as we turn out toward town. I don't wave back but I let it.
—
Marvin Shackelford is author of the collections Endless Building (poems) and Tall Tales from the Ladies' Auxiliary (stories, forthcoming). His work has, or soon will have, appeared in Kenyon Review, Hobart, Wigleaf, and elsewhere. He resides in Southern Middle Tennessee, earning a living in agriculture.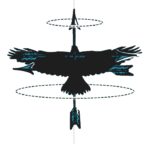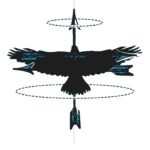 Artwork by: Faizan Adil

Faizan Adil is a Lahore based Pakistani documentary and conceptual photographer. In 2015, He completed his BA (Hons) In Mass Communication from Beaconhouse National University, Lahore. His undergraduate degree thesis was 'The role of photography and photojournalism in Pakistan. He has been working as a freelance photographer since 2013.
Links
Website: www.FaizanAdil.com
Instagram: @Faizan_Adil