We played tennis together, you explain. You swirl your mojito, as if the clinking of ice cubes against the plastic turquoise will drown out the silence of the truth. You look at her, and she nods, her own tumbler close to her lips.
At Sweetbriar? His laugh is sloppy, low tenor, matching his gregariousness. His flip flop dangles off the stubby toe of a crossed leg.
Not on the team, you correct, and she nods again. Just for fun. Actually, you watched a tennis match once, in her dorm room. It was on one of those small, college televisions, back in the nineties, when technology still was big and clunky but slightly smaller than it was in the eighties, before everything came microscopic and ephemeral. Was it the French Open? You remember red clay staining the players' socks and sneakers, and you wondered how it smelled—earthy like the joint you shared, musky like her armpits and between her legs. Sometimes you rub dirt, the silt on the sidewalk, the potting soil in the garden, the turf at your daughter's soccer field, between your fingers and inhale, and it's like nothing you recognize.
I've—we've—always wanted to go to Spain, he says, not even looking at you. Your desires are understood, a unit. Not in a suffocating way. A long, comfortable Sympatico. He knows what basil and from which vendor to get at the farmer's market. He knows how far to move inside you. He has his own friends. He's always home on time.
You should come—I'd be happy to show you around. She looks at you after she looks at him.  Mirabella. You don't know how she got there, what she does. There are beaches, she says, and yachts. No crime. A place, you think, where the brightness bleaches things.
Neither of you tell him you went to Amsterdam. The brown-stained walls in bars, the murky canals. Everything obscured, cold, slightly bitter. You left your camera in a bar in the red light district and never found it. All you have from the trip is a beer coaster, a matchbook, a Velvet Underground t-shirt she let you borrow when you spilled Witbier on yourself. The night you were separated, carried along by the crowd, the wet cobblestones and damp, skunky air, when you reunited at your hostel, you climbed into bed and into each other, your body layered afterward in hers like your wedding dress pressed in the garment bag in your closet.
One of his friends holds court now—the one with an encyclopedic knowledge of European hops, of late eighties alternative music, of everything you thought important once. You glance around the yard, accounting for the twins in the pool, your older daughter at the far end of the yard, under the orange trees, in a football huddle with her friends. The conversations blend into one, crowding out your thoughts, and you are startled when you hear an orange drop from the tree with a thud in the dirt.
You look at her. She smiles at you before glancing back toward your friend, who's talking about her family's vacation in Barcelona. You looked her up on Facebook, once night while he watched a horror movie with your daughter. You were surprised she even had a profile. There were so many pictures. Her, in crumbling cities, in overgrown vineyards, in cloudless water. Her, alone with others. You pretended she posted the pictures for you, even though, behind her sunglasses, you had no idea at whom she was looking behind the lens, in front of the computer screen. But before you could lose her again, you messaged her.
Everyone stumbles around the firepit, wide exaggerated paths, or maybe you are stumbling, back and forth to the recycle bin. She goes into your house. You count the minutes, watching others slide in and out the glass doors, before following. After Amsterdam, she headed on to Eindhoven, and you headed home to grad school. You exchanged letters. They were forwarded to you from Virginia, then Texas, finally to California. Her address on the envelope kept changing: Eindhoven, Berlin, Mirabella. You never knew, until the letters came, the distance between you. When she visited her folks in Arizona years and years ago, you said you had plans. You were embarrassed—embarrassed by her, embarrassed you were married, embarrassed you cut your hair and wore Crocs, embarrassed there were five of you.
In the house, one of the twins snakes through the kitchen. Have you seen Dennys? You shake your head at her, suggest the garage. The thing about hide and seek is that one is always seeking, one hiding. And then you switch, the hider and the seeker, and switch again.
When you find her in your office, cradling a blown-glass paperweight, one she sent you for your birthday years and years ago, you stand in the doorway, blocking the hall, the light. She looks up, laughing.
I can't believe you still have this. She holds it up. It looks like an orange, a pushpin, a globe. A period. A pause before one of you makes the next move.
—
Jen Michalski is the author of the novels The Summer She Was Under Water (Black Lawrence Press, 2017) and The Tide King (Black Lawrence Press 2013), a couplet of novellas, Could You Be With Her Now (Dzanc Books 2013), and two collections of fiction (From Here, 2014; and Close Encounters, 2007). Her work has appeared in many publications, including Poets & Writers, and she's been nominated for the Pushcart Prize five times. She's been named as "One of 50 Women to Watch" by The Baltimore Sun and "Best Writer" by Baltimore Magazine. She is the host of a fiction reading series in Baltimore, called Starts Here! and the editor and founder of the literary journal jmww.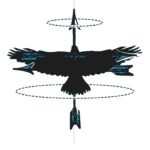 Artwork by: Hannah Strong