So trendy we can't escape ourselves – Kurt Cobain
Reflexive impotence in the everywhere: binaries, artificial intelligence, marginalia—it's all kicking off. Fistfuls of swag. You re-assembled the polymath, the consubstantiate,
the autodidact spirit of the golden-age of rock press. So trendy you couldn't escape yourself—the way the body knew the brain was on fire.
There were holes in the parataxis, surveillance in the ubiquitous, conflations of bureaucracy and mental health. You differentiated, you blogged.
Hauntologies, circuits of trauma, online shopping, source code: a past too vital to suppress—the ways the velveteen became legion. There were people rolling about at the front of the church.
It all had teeth awhile back. It had local infiltration. Tongues of fire—pervasive like atmosphere, conditioning not only the production of culture but also the regulation of form.
There were architectures that redeployed and there were pornographies of meat. What were you looking for when you read so closely? There were taxonomies:
if you don't recall whether this is what having a baby/ a hermeneutics /a tumor /a nice angora sweater used to look like, this is the dog running.
—
Erin Russell (@etcall) is an Amsterdam-based Canadian writer and is the recent winner of the Patricia Goedicke Prize for Poetry, the Able Muse Award for Fiction and the University of Toronto's Wycliffe College Poetry Award. She is a reader at PANK and Black Bough, and her work has appeared in Empty Mirror, CutBank, Time Out, IS&T, and The Holland Times. She researches disability and queer theory in hybrid literary form and lectures in literature and writing at Amsterdam University College.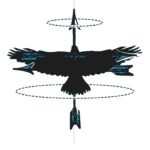 Artwork by: Daniel Garner