Epistolary Writing: a Shortcut to Earnestness & a Step toward Experiment: A Lesson With Tyler Barton
Examples 1: Traditional Letters                                                                             
Examples 2: Books in Epistolary Form                                                              
Examples 3: Modern Epistolary—new forms of "correspondence"                                        
Intro
Somebody, maybe Kurt Vonnegut (or who knows, he probably stole it) once said you should write for a single person. That audience you're trying to please? Make it one face. This story is for Clem. You want Naveed to like this novel. This poem is called "To Sister Daphne" because you hope Daphne reads it and realizes. This mindset is meant to keep the writer honest. It aims to fend off the million voices of differing opinions and predilections living in the writer's head.
And it's a great bit of advice, but it also works on another level.
Your narrator/speaker might benefit from writing something to one person. "Epistolary" is just the pretty word for correspondence writing. Poems, stories, and books written in the Epistolary form are often letters, though (as we'll explore), 'correspondence' can be a playground of other forms ripe for literature. It can get pretty experimental, too, but that's not necessarily the point—the point is that a letter can cut through the layers of storytelling artifice to one of the most honest and direct artifices: Hey you—yes, you, Maude—I've been meaning to tell you something.
It's also important to remember that some of the first works called "novels" were actually imagined travelogues (which are a special form of correspondence, a form I like to call The Manly Man's Diary of My Amazing Trip Abroad). As David Shields points out in Reality Hunger: "The novel sprang from the letter, the diary, the report of a journey…the origin of the novel lies in its pretense of actuality…novel meant the form of writing that was formless, that had no rules, that made up its own rules as it went along."
Examples 1: Traditional Letters
Let's look at some examples. First, a few short ones.
"The Letter" by Mary Ruefle
If the title wasn't enough to tip you off to the epistolary form, look at the conventions used to frame it: 1) it begins "Beloved," and 2) it ends (geniously!) with: "(and here the letter breaks off)"
I'm not going to analyze this poem. I'm not sure analysis works with Mary Ruefle, whose poems are so beguiling and loose and imaginative, all I can usually say after reading them is, "Damn." or "What?" or "Mary!"
I will say that this poem sees Ruefle working in a different mode. The epistolary form seems to bring out a new dimension to her voice. The typical Ruefle poem, as I see it, is image-driven, fragmented, and full of intuitional and linguistic leaps. "The Letter" is more straightforwardly narrative. The energy it has comes from the idea of a soldier writing to one specific person, their beloved. So much is revealed about their relationship by the details the speaker believes will be of interest to his beloved and by the details of his home life he can't help but hang on—"I have lost my spectacles. Is the book I was reading still open by the side of our bed?
"Letters from Two Gardens" by Ross Gay & Aimee Nezhukumatathil
Throughout 2013, friends & poets Ross Gay and Aimee Nezhukumatathil wrote a series of letters (sent through the mail, if you can believe it) to each other from their gardens. The letters are poems. Or the poems are letters. Regardless, they are beautiful, pastoral, honest, and full of that juicy, wild plant language.
Not a bad idea to do a series like this now…
"Letter to a Frozen Peas Manufacturer" by Lydia Davis
Both the Ruefle and Gay/Nezhukumatathil examples show how honesty/earnestness/pathos flows easily through the directness of the letter form. Now I want to look at a letter that takes a different angle–one of curious humor and ridiculous triviality.
Like Ruefle, I find Davis eschews analysis too. All I can say is "Please reconsider your art." is one of my favorite sentences in any story.
Actually, now that I'm thinking harder about the end of this story, it's hard to argue this narrator is not behaving with bald earnestness throughout the writing of this letter.
Benefits of Epistolary
So let's talk about some benefits of the epistolary form:
It can be a short-cut to voice.
Not sure how your character talks/communicates? Have them write a complete letter, all the way from Salutations to Sincerely. They will likely reveal their voice or their truth, or maybe they'll reveal the ways in which they use language to hide themselves.
It can be a short-cut to honesty.
What you say to one person is different from what you'll say to your couple hundred followers on twitter is different from what you'll say in a work presentation is different from what you'll say in your address to the nation.
For me—a millennial who was raised on the safe milk of irony and detachment—it's liberating to find a way to write where it's so hard not to be honest.
Boundaries can be freeing.
Setting a small framing limitation such as: this entire story will take place in the duration of one reasonably sized letter can provide a gift. It cuts out many possibilities, limiting your choices so you work within them. If you're like me, you get your best writing done not when you have an entire 24 hour period to write, but rather a limited time and space (40 minutes during lunch break…90 minutes on the bumpy train ride). I see a connection here to the freedom I feel when I give myself some small limitations.
It's a little different.
If you're in a rut, if you're tired of "Once upon a time", if you're tired of setting scenes and dialogue tags and white space breaks and transitions and all those conventions… try the epistolary. Letters are messy, and that can make them fun.
Examples 2: Books in Epistolary Form
Ta-Nehisi Coates – Between the World and Me
This beautiful, necessary book-length essay is a letter from Coates to his son.
Ocean Vuong – On Earth We're Briefly Gorgeous
Lyrical, heart-wrenching, and dense with questions, this novel is written as a letter from the narrator to their mother.
Joe Wenderoth – Letters to Wendys
Subversive, vulgar, loud, and angsty, this book of connected prose poems is exactly what it purports to be…a series of letters to the Wendy's corporation. Wenderoth calls it a novel, which is totally fair, but I've always read the book in fragmented pieces, treating each chapter as a small, grim poem.
Gary Shteyngart – Super Sad True Love Story
A hilarious and charming novel told in alternating chapters: diary entries and emails.
This brings us closer to the third group of examples…different kinds of "correspondence" that fit more squarely in the information age.
Examples 3: Modern Epistolary—new forms of "correspondence"
Jennifer Egan—"Great Rock and Roll Pauses"
Maybe the greatest piece of what I call "Artifact fiction" (fiction that takes the form of some real, common, uncreative form), is this chapter from A Visit from the Goon Squad. This piece is told through a long series of powerpoint slides. The narrator is a pre-teen learning to use powerpoint in school, and she turns her slides into a sort of diary.
(Brief aside: This is one of the single most beautiful pieces of literature I've come across in my 29 years alive. If you love it too, please email me so we can gush about it)
Julie Schumacher—Dear Committee Members
This novel is told completely in recommendation letters. The narrator is a struggling, past-his-prime writer-professor who spends much more time on hisRec letter writing than he does on creative work. This imbalance (and all his other imbalances…) begin to come through loud and clear as the letters progress. This book is genius! It's a joy to read, especially if you've spent a lot of time in the cult of academia.
David Sedaris—"Seasons Greetings to our Friends and Family"
In this modern classic of the epistolary form, Sedaris imagines a character who has set out to write a Christmas Newsletter for relative and close friends of this dysfunctional family.
Molly Mary O'Brien—"The party goes on all night…" and "Hey, was wondering…"
It may be hard to argue either of these pieces are literally epistolary, but they perfectly exemplify where my interest in epistolary fiction has led me as an artist and reader: I want to push the boundaries farther. I want stories that fit all the varied shaped of modern communication. Nothing makes me more excited about writing than new forms.
O'Brien uses two signs/flyers she sees all the time as templates for microfiction. The first is an MTA sign. The second is a festival poster for something like SXSW.
Prompts
The list is roughly arranged from most straightforward to weirdest. Pick one, give yourself 10 minutes and see what comes out. Don't like it? That's just practice. Pick a new one and try again. If you write something you really like, and it's under 2,000 words, feel free to send it to me at tylerstevenbarton@gmail.com, and I'll send you some feedback. I would truly love to read what you come up with!
Write a letter to someone you've lost, or someone your narrator has lost, or someone your speaker has lost
Write a letter of complaint to someone or something that has slighted you/your narrator/your speaker
Write a letter from the perspective of a prisoner who can't understand why their pen pal has stopped writing
Write a letter of appreciation to someone or something who probably never receives such letters
Write a letter from the perspective of an angsty teen who, for community service, has to write a letter to a prisoner
Write a letter that's just a list of things the person you're writing to has done wrong (or done right!)
Write a note that a substitute, after an day from hell, leaves for a teacher
Write a letter from the perspective of a dog to the dog next door
Write a newsletter for a grandmother's DIY boating organization
Write a long, long, Facebook post from a character who has very few friends on Facebook
Write a post on Nextdoor from a person who lays out a detailed argument for why dog shit is good for the neighborhood, and everyone should just stop it already with the complaining
Write a poem all in road signs
Write a poem cycle where two speakers are sending messages to each other via billboard they own
Write a piece of correspondence from an alien to earth. What form does their message take?
—
Tyler Barton is a cofounder of Fear No Lit, home of the Submerging Writer Fellowship, Page Match, and Try This: Free Workshops. His work has appeared in Kenyon Review, The Iowa Review, Subtropics, NANO Fiction, Wigleaf and elsewhere. He lives in Lancaster, PA, where he works in a Nature Museum and teaches free writing workshops to residents of assisted living facilities. Find him at @goftyler or tsbarton.com. Find his epistolary story, "K," in Waxwing.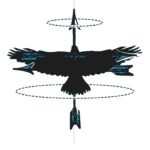 Artwork by: Sreehari Devadas