Active Shooter
I have not forgiven the slant of your body, the sharpness
of breath, an awkward shape rustling against skin. You
are a general. I am a field mouse. We are born into river
clay. Everything is yet unnamed. I don't know how to
feel, but I hear us running. Bullets underfoot, each step,
faltering until it is no longer clear the distance between
us. I am too young to sense the nearness of death. As
blood wets the down of my new pink jacket, I will learn.
The rest of days will be stitched together with memories
of hands releasing. When they did, there was silence.
To My Past Lovers
Jo is omnivorous sky.
The flicker of candlelight muted, by torrential rain.
The beginning & the end, red velveteen curtains at a Punch & Judy
show. She's a drag on a raw, unfiltered cigarette. Sweet Tennessee, whiskey
with a vodka chaser. A moon out the back window of a van, somewhere in California.
Tattooed arms rising. A cultural revolution with a kicky black tail. Jo is "La Belle Dame sans
Merci" edited for length & coherency.
David is a first-class ticket to New Orleans.
An orchestra seat at the Dorothy Chandler, solo. A suite at the Ritz for afternoon romps. David is Campari on the rocks. Roses & chocolate. He's a teddy bear stuffed with Cartier. David's aura is
fire red, Lothario. He talks the good talk, says he wants to drape me in jewels, but drapes me
over the sink instead. David describes himself as "frustrated." 30 years later, still married, he
messages me on Facebook,
"I still remember the color of your panties."
Don is a foreign season, a distant door slammed shut.
He is afternoon tea with sweet cream. A tiny poem with a power beat. A romantic half-light of
memory. Don is a single robin, a letter in my mailbox with a fifty-pound note. He's says, "I love
you," threatens to jump off Brig o'Balgownie unless I marry him. What about your wife, I ask?
He comes to me in a dream & for a moment we are happy. In the morning he is gone. I learn of his death too late to say goodbye.
—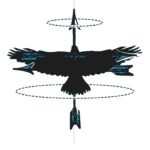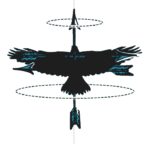 Artwork by: Nathan Anderson