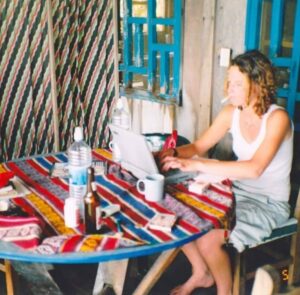 Jennifer Todhunter, Editor-in-Chief
Jennifer is a Canadian writer from the southwestern coast of British Columbia. Her stories have appeared in SmokeLong Quarterly, Hobart, The Forge, and elsewhere. Her work has been selected for Best Small Fictions, Best Microfictions, and Wigleaf's Top 50 Very Short Fictions. She's the founder of Trash Mag and online at foxbane.ca and @JenTod_.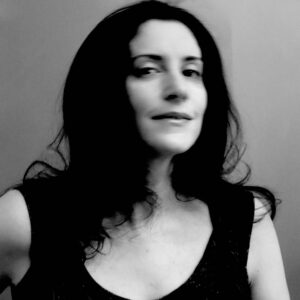 Leonora Desar, Fiction Editor
Leonora Desar's writing has appeared in River Styx, Passages North, The Cincinnati Review, Black Warrior Review, and Columbia Journal, where she was chosen as a finalist by Ottessa Moshfegh. Her work has been selected for The Best Small Fictions 2019, Best Microfiction 2019 and 2020, and the Wigleaf Top 50 (2019 and 2020). She won third place in SmokeLong Quarterly's 2020 Award for Flash Fiction and River Styx's 2018 microfiction contest, and was a finalist in Quarter After Eight's Robert J. DeMott Short Prose Contest, judged by Stuart Dybek, and Crazyhorse's Crazyshorts! contest. She writes a sometimes practical advice column for New Flash Fiction Review—DEAR LEO.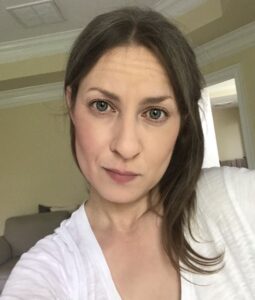 Dina L. Relles, Nonfiction Editor
Dina L. Relles is a writer, editor, and former attorney living in rural Pennsylvania. Her work has appeared in The Atlantic, DIAGRAM, matchbook, Monkeybicycle, Hobart, CHEAP POP, Passages North, New South Journal, and Wigleaf, among others. She's currently working on two short books of fragmented prose. More at dinarelles.com or @DinaLRelles.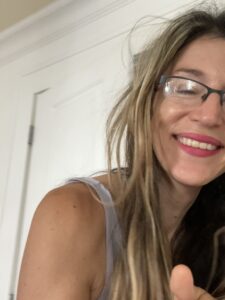 Alina Stefanescu, Poetry Editor
Alina Stefanescu was born in Romania and lives in Birmingham, Alabama with her partner and several intense mammals. Her writing can be found in diverse journals, including Prairie Schooner, North American Review, FLOCK, Southern Humanities Review, Crab Creek Review, Virga, Whale Road Review, and others. She serves as Poetry Editor for Pidgeonholes, Poetry Editor for Random Sample Review, Poetry Reviewer for Up the Staircase Quarterly, and Co-Director of PEN America's Birmingham Chapter. She was nominated for 5 Pushcart Prizes by various journals in 2019. A finalist for the 2019 Kurt Brown AWP Prize, Alina won the 2019 River Heron Poetry Prize. She still can't believe (or deserve) any of this. More online at www.alinastefanescuwriter.com.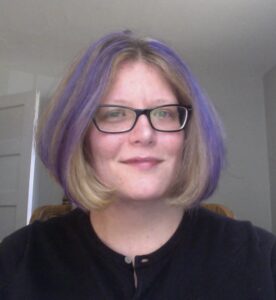 April Bradley, Associate Fiction Editor
April Bradley is a Durham, North Carolina-based writer of short-form fiction and creative nonfiction. Her work has been nominated for the Pushcart Prize, The Best of Small Fictions, The Best Microfiction, and the Best of the Net Anthology. Her writing appears in Blink Ink, CHEAP POP, Journal of Compressed Creative Arts, Narratively, NANO Fiction, Smokelong Quarterly, and Thrice Fiction, among others. She is the publisher and editor-in-chief of Feast & Flash and also serves as a submissions editor for SmokeLong Quarterly.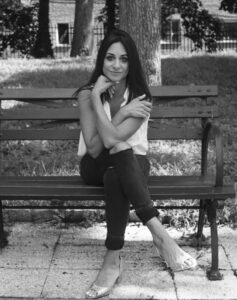 Emily James, Associate Fiction Editor
Emily James is a teacher and writer in NYC. She is the CNF Editor at Porcupine lit. Her story "Zero" was a Smokelong Flash 2020 Finalist, and the winner of the 2019 Bechtel Prize. Her work can be found in Guernica, River Teeth, The Atticus Review, Jellyfish Review, and elsewhere.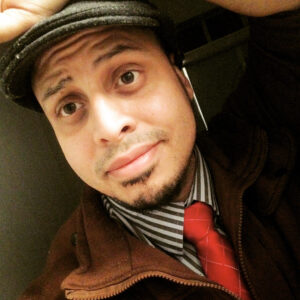 Joaquin Fernandez, Associate Nonfiction Editor
Joaquin Fernandez is a writer, editor, and recovering filmmaker perpetually tinkering with his first novel. His work has appeared in Lost Balloon, Cheap Pop, and X-R-A-Y Magazine among others. He is currently the Associate Fiction Editor for Okay Donkey Press as well as an Associate Nonfiction Editor for Pidgeonholes.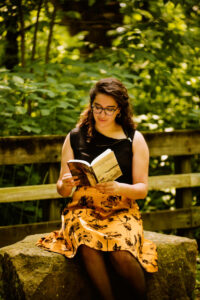 Natalie Dalea, Associate Nonfiction Editor
Natalie Dalea is a midwestern mestiza writer, currently located in Chicago. Her writing has appeared in the Field Museum blogs, MLA, and Pidgeonholes. She has been nominated for a 2020 Pushcart Prize, and she is a 2020 Hedgebrook Fellow and Writer-out-of-Residence for the inaugural cohort of Writers House Pittsburgh. Find her @nmdalea.

Shriram Sivaramakrishnan, Associate Poetry Editor
A proud alumnus of Seamus Heaney Centre for Poetry, Shriram Sivaramakrishnan is a second-year MFA student at Boise State University. His poems have recently appeared or are scheduled to appear in Hobart, and DIAGRAM among others. His debut pamphlet, Let the Light In, was published by Ghost City Press in June 2018. He tweets at @shriiram.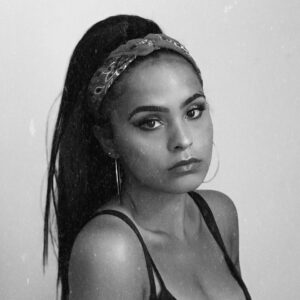 Savannah Fiset, Art Director
Savannah Fiset is a poet currently residing in Montréal, Canada. Having completed a political science and history degree bachelor's degree from McGill University, she has since published her own collections of poems titled "Smother' under the pseudonym Aura. She has had multiple poems published with Pink Pods, Ubuntu Talks and The Woman Power, and has also participated in spoken word performances. Find her book at auratically.com, and follow her journey at @auratically on Instagram.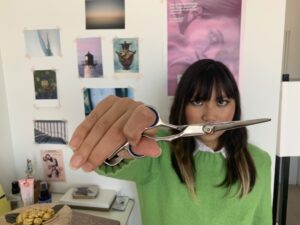 Ashley D. Escobar, Social Media Coordinator
Ashley D. Escobar is a writer and filmmaker from San Francisco. She attends Bennington College and contributes to College Magazine. Her work can be found in MAI: Feminism & Visual Culture, Leavings, and BlueHouse Journal, among others. People watching is her favorite hobby, along with taking trains without any particular destination in mind. Find her infrequently on Twitter @quinoa_cowboy & quinoacowboys.com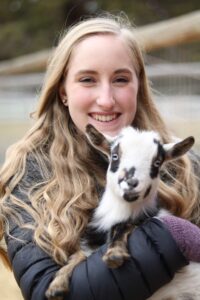 Ellie Pobis, Social Media Coordinator
Ellie Pobis is a poet from Columbia, South Carolina. She is studying English and Creative Writing at Reed College in Portland. She also works as part of the Reed College Creative Review Editorial Board. She enjoys discussing sonnet crowns and film adaptations of Jane Eyre.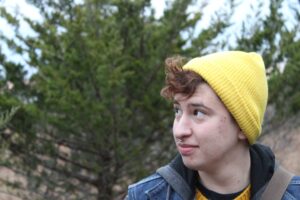 Alex Everette, First Reader
Alex Everette is a barista, gardener, and cat dad living in Rhode Island. He studied English with a focus on creative writing at Bridgewater State University and occasionally publishes a poem or two of his own. He's exceptionally interested in work that explores the meaningful minutia of life and plays with the limits of the craft.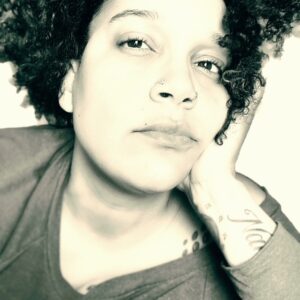 Camille Colpitts, First Reader
Camille: a Black-mixed mama, southern born, queer, creative non-fiction writer. She lives in Saint Paul, MN after California raised her. She pokes her writing around while orbiting her Son, new moons and Andes mints.

Chelsea Stickle, First Reader
Chelsea Stickle lives in Annapolis, MD with her black rabbit George and an army of houseplants. Her flash fiction appears in Monkeybicycle, The Molotov Cocktail, matchbook, McSweeney's Internet Tendency and others. Her work has been nominated for Best Microfiction, Best of the Net, Best Small Fictions and the Pushcart Prize. Breaking Points, her debut chapbook, is forthcoming from Black Lawrence Press (fall 2021). Read more at chelseastickle.com/stories or find her on Twitter @Chelsea_Stickle.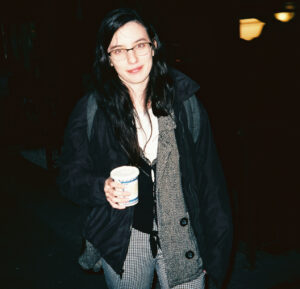 Danielle Chelosky, First Reader
Danielle Chelosky is a New York-based writer who explores music and culture for MTV News and The FADER, while diving into sex and relationships for Hobart Pulp and Rejection Letters. She is a sucker for lyric essays.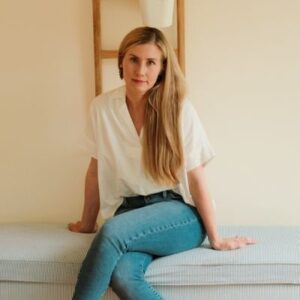 Elizabeth Muller, First Reader
Elizabeth Muller is a writer living in New Jersey with her husband and three children. She is a graduate of Columbia University and was a finalist for the Barnhill Prize for Creative Nonfiction. Her work has appeared in Catapult, XRAY Lit, Maudlin House, and others. You can find her on Twitter @eawrites.
Erik Fuhrer, First Reader
Erik Fuhrer lives in Indiana. He is the author of the poetry collections every time you die (Alien Buddha Press), not human enough for the census (Vegetarian Alcoholic Press), and VOS (Yavanika Press). He can be found at Erik-Fuhrer.com and on Twitter at @erikfuhrer.
Mary Hanrahan, First Reader
Mary lives in the middle of Michigan with her family and three dogs. Her most recent work appears in Booth, The McNeese Review, Boudin, and Sugar House Review.