Your poem "The Joy Kill Series [Or] Becoming Less of a Human and More of the Sky" appeared in our SISU issue. Can you tell us a little bit about your inspiration for the piece, and how you feel like you've grown as a writer since having it published? Joy Kill was born in the spring of my last year of undergrad (2015) as a composite character created by my close friend (and former Pidgeonholes contributor – check out "The Uncanny Disappearance of Fishboy" in Pidgeonholes Vol. 4 Kintsugi!!), Charles L. Crowley, and myself. Joy Kill began as a character between us and our writer's group, Thimbleschism, but soon he became solely mine. Originally he was given a motorcycle, but that morphed into silver rollerblades, long hair, and a dark secret for me. I began to play with Joy Kill more and more until his story became one of darkness and light, reversed themes of good and evil, and the slightly macabre essence of the unraveling nature of death. "The Joy Kill Series" went through many changes throughout that spring and summer, finally taking a real shape in the fall when I split his story into five sections which signify his death as it moves forward into a type of rebirth ("Becoming the Sky").

What advice would you as a writer now, give you as a writer then?

It's okay to rest in writer's block. Some writers write out the crap until they start producing gold again, and as much as I wish it was the case, that's not how it works for you. Pay attention to the prewriting you do in your head – the stuff that marinates before you get it out on the page. It's a necessary process and good things are happening during this downtime. Writer's block is as much a blessing as it is a curse, so treat it as such at the appropriate times.

What time of day do you do most of your writing? Describe your writing rituals and your creative space.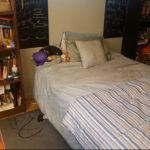 I can write at any time of the day – it just depends on my inspiration level and how busy I am with work or school beforehand. If I have free and unfettered time, I can decide to write whenever the mood strikes me and go from there. As much as I would like to carve out a certain block of hours each day or each week to write, I know that doesn't really work for me as a routine. It's a great exercise! But not something I can do consistently to produce any work I'm proud of. If I am working to a deadline, I can snap myself into a writing space or ritual so long as I have an idea and some quiet. Currently, I enjoy writing at a few different coffee shops in and outside of my city, but my main writing space is my bedroom, specifically my bed.
Are there repetitive themes within your writing? Where do you draw inspiration for these themes, and how do you find yourself drawn to them?
I have a strong relationship with God, and that has certainly been a recurring theme in my writing in one way or another. A lot of my writing touches on themes and concepts such as the soul, prayer, spirituality, dreams, and talking to and relating to God as a close parent and confidant rather than a distant punisher or ambiguous, unknowable being. Other themes come from real life experiences such as relationships with family and friends or romantic relationships, as well as memory, racial identity, childhood, music, and recurring dreams (I once wrote a piece about how often I dream of my teeth falling out). I am a rather melancholy, reserved individual, so much of what I am drawn to is what I think about and what I feel. I spend a lot of time thinking and considering, analyzing and wondering and worrying, imagining and processing, and this is where and how my stories are conceived. Inspiration can really come from anywhere: from a line in a book, from a story a dear friend has written (friends' stories inspire me quite a bit!), scenes in movies, lyrics in a song, or just scenes from the every day.
Our goal is to publish absurdly unclassifiable literature. Do you have a favourite piece of writing that goes against the grain?
I don't know if this work goes "against the grain," exactly, but I have always really loved 
It Was a Pleasure to Burn
, which is a short story collection from Ray Bradbury of all the shorts that eventually lead to Fahrenheit 451. He's got some amazing pieces in there – the concepts and themes always blow me away and get my mind racing with stories of my own. I also really love 
How to Live Safely in a Science Fictional Universe
by Charles Yu. It's a such a weird, wonderful world he's created that really pushes the possibilities of what you can do in fiction and with prose.
Of my own works, my favorite piece of "unconventional writing" is my short story, "
The Healthiest Place On Earth!
" It's about a mental-illness themed theme park told from the perspective of a narrator with an anxiety disorder and a terribly dysfunctional family. Creating this piece was both fun and cathartic for me because it touches on a lot of personal struggles I've had with my own anxiety and just the weird journey of therapy and treatment as a young adult. You can check it out in the August 2017 archive of 
OCCULUM
, run by the lovely Arielle Tipa!
What pieces and/or projects are you currently working on?
I'm currently taking a class on Literature and Theology: Defining Religious Experience, the Idea of the Holy, and the Sacred and Transcendent (I know, a mouthful). This class is blowing my mind and I get to create a short story for my final project. I've got a sort of fiction/nonfiction braided short story that I've been prewriting for the last couple of months and I am so close to getting it out on the page! Once it's done, I'm looking forward to submitting it to a few journals.