Jules Archer is an author of flash fiction who has been published in multiple venues
including, but not limited to, Five:2:One, Maudlin House, Pithead Chapel, SmokeLong
Quarterly, and Ellipsis Zine. Her website suggests that she now wields a novel 'about a girl and a
rabbit's foot' that is 'in the hellfires of editing.' You can find her previously published work
here: www.julesjustwrite.com.
All the Ghosts We've Always Had is the title of Archer's debut collection. I received this wonderful bundle of joy in the mail but fourteen hours ago and proceeded to dive right in on account of the glowing reviews by Kathy Fish and Robert Vaughn on the back which stimulated my literary appetite.
There are thirty-three stories in this collection, each roughly a page long, that detail the life of the narrator, Jane, from childhood to dawning motherhood. The metamorphosis from helpless child, to stumbling teenager, to strong woman and wife was as equally rewarding as it was horrifying. The collection starts off sullen; the main character faces tragedy from the beginning and is left to be raised by two unreliable parents. Her mother teeters on the brink of mental collapse and her father is too absorbed by the curves of a gas station attendant to pay any mind to his daughter. With this unfortunate beginning, possibly due to my innate reliance on cynicism, I expected nothing but punch after punch to befall Jane. Punches came, sure, they came hard and strong and often. However, as Jane matures she uses her trials as a platform to develop herself. This collection is not a constant barrage of unfortunate events. It is a realistic, detailed example of how one can find comfort in life if they try. All the Ghosts We've Always Had is like road trip through all the seasons. We experience Winter, Fall, Summer, Spring, funerals, warm pies, robberies, and the promise of a wonderful baby.
When Jane is young she befriends several neighborhood boys. The eldest of which is named Adam and, as those who grew up in close distance to a potential childhood crush may attest, eventually the two begin to gravitate towards each other very quickly. It is fairly uncommon for me to be attracted to or find comfort in the gooey pie filling that is romance. I tend to find it forced, sappy, and generally showcased in a hyper-fictional light. That being said, I found the development of the relationship between Jane and Adam to be one of the most enjoyable aspects of the collection. No relationship is perfect, and this one is no different, but when times are good they are really good. And when times are bad, it's gritty and realistic. The couple's hard times really makes a reader sympathize with them deeper than a conventional romance. Watching this couple grow up; put their house together, start a business and a family, is an incredibly warm experience that perfectly offsets the interstices of coldness sprinkled throughout the collection.
All the Ghosts We've Always Had shows readers that people hold the capacity to be more than what they are born into. Despite a manic mother and absent father, despite national tragedies, despite losing your wedding ring, and despite death, we all hold the capacity to prosper. We can all find warmth in the cave.
—
Cavin Bryce is a twenty-one year old student of English attending the University of Central Florida. He spends his time off sitting on the back porch, sipping sweet tea and watching his hound dog dig holes across a dilapidated yard. His work has been published in Hobart, CHEAP POP, OCCULUM, and elsewhere. He tweets at @cavinbryce.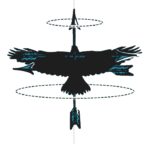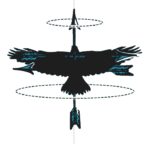 Naturally, we had a few follow-up questions for Archer:
BRYCE: You have a long history with fiction journals and magazines, are there any specific titles or venues that you feel helped mold you as a writer of flash fiction?
ARCHER: That's a great question. I think it wasn't a specific piece per se, more so the venue like you said. I started out writing flash fiction in the Fictionaut group. That really helped me get to know other writers and find my voice. From there, once I started to get published, I recognized the "big name" lit mags, the ones that were harder to get into (like Smokelong, Pank, and some others). And I made those my dream mags to aspire to. Which meant I had to write better. I still do this. Find lit mags I can't crack, and make them my goal. It's like fishing. It's fun.
BRYCE: In terms of inspiration, where all did you look for this collection in particular? Did the concept come naturally or did you really have to sit down and contemplate the various themes and subjects you wanted to address?
ARCHER: Gosh, so this got started in Kathy Fish's Fast Flash class. If I remember correctly, it was a dream exercise. Dreams alternated with reality. I wrote maybe five parts, and then was inspired by Kathy to write more, and I decided to turn it into a chapbook. A cohesive story with a real, live theme and characters. I knew I wanted it to be about love and mother and babies and from there it just kinda came to be what it is now.
BRYCE: Romance plays a decent role in All the Ghosts We've Always Had and I thoroughly enjoyed what you were able to do with it. That being said was there ever a "boy next door" for you? Or any fun, youthful anecdotes you'd like to share with your readers?
ARCHER: Thank you! And no, there was never really a boy next door for me in the romantic sense. From what I remember of the boy next door, he stole all my Teenage Mutant Ninja Turtle action figures and I never forgave him for that.
BRYCE: Do you have any projects you're currently working on? What are your artistic aspirations for the future?
ARCHER: Right now, no new projects. I have a lot of ideas, but kind of have the blahs re: writing. It's sad, I know. But sometime in the near future, I do hope to put together another chapbook of short stories, or even a novella in flash. I want this one to be dark and creepy and potentially murdery. Or at least I want to try my hand at dark and murdery. I mean, what can go wrong, right?
All the Ghosts We've Always Had was published by Thirty West Publishing House.