When we get to the end of the story, you will know
more than you do now–Hans Christian Andersen
I
Let's be real here:
He would never have saved you
if the fragment had fallen in your eye.
There would be no tears to make
him remember. No rose bush to show him
you were not among the dead. He wouldn't
have cared enough to arrive at the end
of your tale, to kiss you steadfast and barefoot
in snow drifts—to solve your puzzle.
II
No one will ever love me
Chant that now. Fuck the little angels
that came from your breath.  Find your own
way to the Mirror of Reason. Tip your head
back when you see the swarming white bees.
Let the crystal splinters penetrate your corneas.
Settle in on my throne and insert the shard
he didn't need—deep. I will lick the blackened
bloom of your frostbit lips to make you forget—
—
Victoria Nordlund is an adjunct professor at the University of Connecticut. Her chapbook Binge Watching Winter on Mute will be published in Spring 2019 by Main Street Rag. She is a 2018 Best of the Net and Pushcart Prize Nominee, whose work has appeared in PANK Magazine, Misfit Magazine, Gone Lawn, Ghost Proposal, Amaryllis Poetry, Philosophical Idiot, and other journals. You can read more of her work at victorianordlund.com/poetry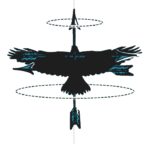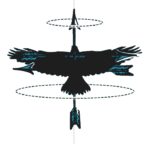 Artwork by: Paul McGeiver