"Obliterated Ómbligo" was selected for THE BODY poetry shortlist.
—
"A mile on the ocean and a mile
on the land are not the same distance"
—Snapple (Real Fact #87)
When I returned to where I'd left my umbilical cord,
I walked foot by foot, attempting to revive
before I learned how to breathe. When I say breathe,
I mean vivir. I mean the paralysis between alive & half dead
inside my mother. Alive when one solitary cry into earth fills
the delivery room with lágrimas—a n n o u n c e m e n t, announcement:
Time? Baby's weight? Sex? Nationality? Parents' nationality?
To the receptionist, I said, I was born in this hospital…I need to retrieve
my umbilicus—I no longer reside in the mountains…have migrated
to the desert, deserted the prairies, desired for 14 years to return to abuelita
whom taught me how to masticate black beans con tortilla.
Call me fantasma, rover, chipilona, mija, or M.E. Walk, caminar,
walk, caminar. The receptionist said, Good luck…this place is small.
In returning for my navel, my first corazón, I closed my eyes & touched walls.
Aquí…here…I must've been born. A woman had walked these halls &
phoned the future. Everyday we speak—two hours behind in the past. &
right when I think I'm closer to my belly button, dust storms come from dark—
a scorpion refracts in light. I open my palm, ready—Entiérrate en mi.
My skin like sand—my body one day beneath glass. Possibly, I'll never
understand the cycle—vivir, mover, regresar, morir; live, move, return, die.
How many exiled lives have I lived? Mouth opens for aire—mis ojos.
—
Maritza N. Estrada was born in Toppenish, Washington, and raised in Omaha, Nebraska. She is Mexican-American, bilingual, and is working on a literary translation certificate in Spanish. She earned her BFA in Creative Writing (Poetry) at the University of Nebraska Omaha, where she received a full academic scholarship as a Buffett scholar. Estrada is currently residing in Tempe as an MFA candidate in Creative Writing (Poetry) at Arizona State University and is Poetry Editor at Hayden's Ferry Review. Her honors and awards include the 2019 Virginia G. Piper Creative Research Fellowship, winner of the Mabelle A. Lyon Poetry Award, Swarthout Award in Poetry, and alumna in Winter Tangerine's workshop at Poets House. Her work can be found in Blue Mesa Review, Río Grande Review, The Flat Waters Stirs: An Anthology of Emerging Nebraska Poets, Misbehaving Nebraskans Anthology, and 13th Floor Magazine.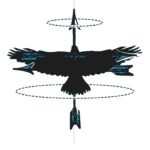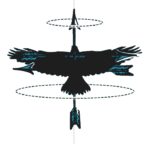 Artwork by: Маша Реймерс