Two slouching couches [603 Scarlet Lake and 192 Cobalt Violet] are burdened with students in sweats and hoodies, unconscious with paint specks as personal as freckles [637 Terre Verte, 538 Prussian Blue, 479 Permanent Carmine] and hair as vibrant as the spills on the concrete floor [400 Mauve Blue Shade, 692 Viridian]. Crumpled wrappers of vending machine [337 Lamp Black] snacks and crinkled tubes with misleading colors of dried paint lumped across their [748 Zinc White] caps, spill off stools and under tables. Laughter and determined silence alternate through the layers of paint washes. Biting turpentine and smoke sit under the scents of pigments.
Mirrors [137 Cerulean Blue] are tacked to flecked and stained walls for portraiture because no subjects will sit all night, printed guide pictures remind the sleep-deprived which way shadows fall from the missing sun [34 Blue Black and 319 Indian Yellow]. Every surface but the canvases is a chair or place for pocket change; an empty six-pack of grocery-store beer slides across the coffee-less table that dominates the center of the room. Across the bars in the panel-less ceiling, a limp string of Christmas lights [745 Yellow Ochre Light] dangles, and the tune-less scales of the practice rooms above accompany the wide-eyed artists at all hours.
—
Alana Hollenbaugh is a fiction and poetry writer finishing her degree at the University of San Diego. Her work has previously appeared in The Alcalá Review and at the SEEK 2017 Conference.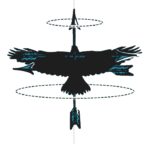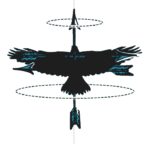 Photo by: Ana Prundaru