Childhood? My mother told me stories;
about my grandfather
who was taken for a ship's timber—
cut down in a flail of sweating arms
and buzzing saws—
his stump left in the ground's mouth,
a half-pulled rotting tooth.
Mother mourned for more than thirty rings of growth,
told me she often saw transmissions in her branches—
pictures unimaginable of water vaster than any lake
and a sun that rose fiery at dawn,
its face unpleasant, skull-like
and too hot — a real grass scorcher,
except there was no grass.
Of my father, I remember little.
He was taken while I was still a sprout.
My mother says for planks. What kind?
As the saying goes, she leaves those knots
in the branch for me to fill.
I'd like to think he ended up wild, a circus wagon
hauling something big, and red, and noisy.
My brother, who knew him, says no,
probably just plain old flooring.
—
John Barrale's poetry has been published in numerous print and online publications, most recently in Unoaurean, East Meets West – American Writer's Review, and Icon. Along with four other "Gang of Five Members", John hosts the William Carlos Williams reading series in Rutherford, NJ. In 2012, "Shakespeare's Moths", a collection of John's poems, was published by White Chicken Press. He currently resides in New Jersey.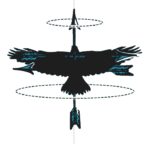 Photo by: Ana Prundaru