The afternoon is sweatshirt gray, heavy and hot, the kind of day where a handhold or a hug can suffocate. Not like when we used to picnic at the lake, back when Pixie was a pup and chased the swans until they lifted off in fighter formation, orange beaks aimed at the moon. The marinas are gone now; the trout hatchery dry. I stop, pick a flat stone from the shoreline, so much farther out than last year. It skips once, twice, three times before the pool returns to still glass, ready to shatter again.
"What are swans, Ma?" Baby, our youngest, asks me. Before I can answer, you speak.
"Magical creatures," you say.
Not magical enough, I think.
Before the sky scorched, before the rains bled acid and the earth turned from incubator to incinerator, there were birds. Ducks and geese, swans with their Audrey Hepburn necks, wonderful wings beating quick as heartbeats. We watched them skim the lake, a windsong of life on a silver meadow of water.
I remember meadows. Corn. Soy. Green.
"Where did the swans go?" Baby asks.
My turn.
"They sleep in the summer."
"Like those?" Baby points to the empty paddleboats, huddled in a heat haze at the water's edge.
The swans sleep, silent, necks bent as nuns in prayer. They circle into themselves and shut out the world, beaks faded pale and colorless under the searing sun.
"Yes, like those," I say, pulling Baby close, ignoring the heat, wondering if our cygnet will ever see the world through a swan's eyes.
—
Christina Dalcher is a theoretical linguist from the Land of Styron and Barbecue, where she writes, teaches, and channels Shirley Jackson. Recognitions include The Bath Flash Award's Short List, nominations for Best of the Net and Best Small Fictions, and second place in Bartleby Snopes' Dialogue-Only Contest. Laura Bradford represents Christina's novels, which feature a sassy and stubborn linguist. You can read additional short work at http://christinadalcher.com/writing/shortsandflash/ or follow @CVDalcher.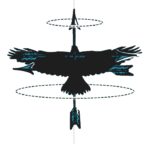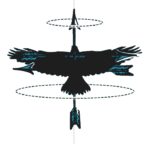 Photo by: Ana Prundaru