When I was homeless, I snuck into gyms.
Browned shower floors with footprints.
A rose inside curtains' slow steam,
I became an endless bloom,
tongue lapping the head.
—
James Croal Jackson is the author of The Frayed Edge of Memory (Writing Knights Press, 2017). His poetry has appeared in FLAPPERHO– USE, Yes Poetry, Stonecoast Review, and elsewhere. He edits The Mantle, a poetry journal. Find him in Columbus, Ohio or at jimjakk.com.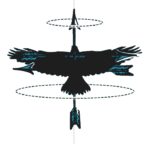 Photo by: Ana Prundaru