1. Wouldn't you look tragic
in a Nebraska cornfield
red & windblown & wheat-haired
a bloodroot tucked neatly behind your ear
sun drunk & crumbling
down your eyelashes.
2. Little panic baby let me
hold your bellybutton
a snowglobe
shake your dust
down your elbows give
me something fragile
to fit in my palms.
3. Let me hold your knees
against each other do you feel
my life lines flooding
with sweat
little rivers pooling
in your desert hills [?]
4. As a child you would lick everything you were curious about
car tires & lightbulbs & dead wasps
until your Dad said don't be weird and now you don't
but your tongue still looks earth-strung especially
when it reaches my collarbone like it recognizes
the rich flavor of a wound.
5. Your ankles dipped into the red barn
& left a sparrow & left a quiet frenzy
in the ancient breeze & your goodbye
nothing more than a swallow
& swollen lungs against
the amber of a wheat field.
6. Weird crow.
I know a thing or two
about bird law you say
how he is turning dragon
his wings beginning to glow and nose-
diving towards surfaces
he is ready
so so much to become a newthing
dust or animal.
—
Marie Conlan is a current MFA student at the Jack Kerouac School of Disembodied Poetics at Naropa University. She hails from Minnesota, and currently resides in Colorado, where she splits her time between the city of Boulder and the High Rockies.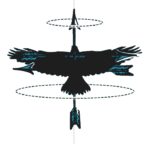 Photo by: Ana Prundaru