I imagine you two getting lost in an idea
And hooking parts of yourself to its wires.
Bits of arm and eye socket
And soft belly rolls
Create a new entrance
Where you both saw an exit.
Then comes the disconnect,
From you and from him,
And you deconstruct
And lay yourself on the showroom floor.
You're annoyed and defeated that you volunteered for this
And you pray the concept of construction
and finds you alive and okay.
The light overhead
From the bulb that insulated itself
Finds every mocha crevice of your skin;
Before then,
You didn't know tungsten
Loathed illumination
Or that the human brain was shaped like a desk,
Or a chair
Or maybe an aisle
That leads you to new places
But doesn't bother to acquaint itself with an ending.
As content as you are with this space of indecision
You realize he wants to create an omega
And rips the face off the strongest poison he can find,
He paints his eyes and lips until
He looks like an antagonist.
He's put himself together.
You?
You're only half there;
A face, some skin,
A simpered libido,
But your brain and heart disappeared.
The other half,
He knows he had yet to find.
But you also know it was ogling
The curves of the woman.
Knowing you,
They were lesbians,
But from an outside perspective it was not obvious
Because clearly, wires and bolts
are cognizant enough to
embrace the ambiguous.
The same idea you got lost in has now been unraveled
And he's wrapping around the dangling bones of your shoulder.
"You don't get it," he says,
Pulling chunks of Sappho out of your mouth.
"We're just mentally unclogging the drain."
You dangle,
Like a dissected table
You're out there,
Perpetually in the state of the alpha,
An inexorable beginning
With no mouth to ask questions –
The encyclopedia of lesbianism
Fades out like an incandescent current.
Because the answers were wrapped in too big
Of a perception.
—
Anna Keeler is a poet and fiction writer attending Rollins College in Winter Park, FL. She is the assistant editor for The Chaotic Review, and was the 2016 recipient of the Arden Goettling Academy of American Poets Prize. Her work has been published or is upcoming on Poets.org, Indiana Voice Journal, The Merrimack Review, Cleaver Magazine, The Writing Disorder, Sick Lit Magazine, The Dime Show Review and more.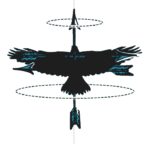 Photo by: Ana Prundaru