Pootatuck
It's the kind of river you can walk across. There is a fine scum tarnishing every stone of it. Just look behind me. My steps are brightening the sand, and because the river is clear and endless, the proof of my travels speeds away. If I come back tomorrow, my path will have darkened, and the water I walked through will be headed for the clouds. Somewhere a child is looking up, guessing the animal my feet had been inside.
Truth and Goodness and Beauty
The ancient Greeks had the right idea, but they've been dead for centuries. Sooner than not, we'll have to rely on what someone said that Plato said. It's happening even now. Think of Monet's "Water Lilies" succumbing in the fire of 1958. You can find pictures of it, but you'll never understand the texture of the paint. Alas, the unreadable world accumulates inside the sleekness of our phones. It won't be long before everything true is neither good nor beautiful.
—
Charles Rafferty's most recent collections of poems are The Smoke of Horses (BOA Editions, 2017), Something an Atheist Might Bring Up at a Cocktail Party (Mayapple Press, 2018), and The Problem With Abundance (Grayson Books, 2019). His poems have appeared in The New Yorker, O, Oprah Magazine, Gettysburg Review, Cincinnati Review, Prairie Schooner, and Ploughshares. New prose poems are forthcoming in The Southern Review, Salamander, Plume, Gargoyle, and Rhino. He has won grants from the National Endowment for the Arts and the Connecticut Commission on Culture and Tourism. Currently, he directs the MFA program at Albertus Magnus College and teaches at the Westport Writers' Workshop.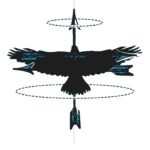 Artwork by: Steve Johnson