Your story "Mrs Chakrabati's Buddha" appeared in our FORELSKET issue. Can you tell us a little bit about your inspiration for the piece, and how you feel like you've grown as a writer since having it published?
It's a few years now since I wrote this but I remember it being a story that came to me almost fully-formed, and it was just a case of getting it down on paper. I'm interested in the connections between memory and identity, which naturally leads to thinking about childhood experiences – though this story isn't based on events from my own life. I don't write as much flash now as I used to, but the skills required for very short stories – vivid imagery, precise word choice – are useful for longer forms too.

What advice would you as a writer now, give you as a writer then?
The same thing I try to tell myself now: Never give up! Never surrender!

What time of day do you do most of your writing? Describe your writing rituals and your creative space.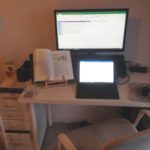 Most of my writing these days is done on evenings and weekends. I try to do something writing related every day, whether that's drafting, or editing, or researching, but there are lots of days when I get home from work and I don't have the mental energy. During the week, I write at my desk in my flat, but at the weekend I try to get out and work in libraries and cafes – London has plenty of choice in this regard.

Are there repetitive themes within your writing? Where do you draw inspiration for these themes, and how do you find yourself drawn to them?
As above, I'm definitely drawn to themes of memory and identity. I have a PhD in Theology, and I'm very much drawn to theological themes. I also write across genres, both lit and speculative, and a lot of my stories are quite strange. A big influence on my own writing is the fiction I read, and I try to borrow from my favourite writers without aping them too directly, though this can be a difficult balance to strike.

Our goal is to publish absurdly unclassifiable literature. Do you have a favourite piece of writing that goes against the grain?
It's tough to choose a favourite, but the novel I'm currently reading (The Angel of History by Rabbih Alameddine) does lots of interesting things to very powerful effect, including interviews between Death and Satan, and a chapter told from the perspective of a drone as it is sent to strike a village in the middle east.

What pieces and/or projects are you currently working on?
I'm currently trying to find an agent for my first novel, a post-apocalyptic alternative history set in first century Judea, and I've begun work on a new one (not a sequel). It's a multi-generational historical saga loosely based on my own history – my dad's side of the family emigrated to the UK from Lithuania and Belarus at the end of the nineteenth century. My novel begins in the 1850s in the Pale of Settlement within the Russian empire, and I'm planning to cover 100-150 years of history.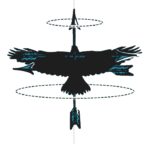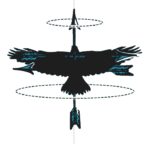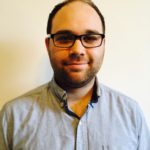 Anton Rose is an award-winning writer from the North East of England. His work has appeared in a number of journals and anthologies, and you can find him online at antonrose.com or @antonjrose.