Georgia Bellas is a writer, artist, and filmmaker whose current obsession is theremin. She and Dan Nielsen are the Wisconsin-based duo Sugar Whiskey (https://sugarwhiskey.com/), a post-minimalist art band. You can follow her teddy bear, host of the award-winning weekly Internet radio show "Mr. Bear's Violet Hour Saloon," on Twitter @MrBearStumpy.
Our former fiction editor, Cathy Ulrich, asked Georgia a few questions about "The Rabbit Goes to Drink from Your Throat" published by Pidgeonholes on August 6, 2018.
ULRICH: Georgia, this piece is so gorgeous and dark. When I first read it, it just sucked the breath out of me. I know you're waiting for a question now, so here it is: What inspired this story?
BELLAS: Dead baby bunnies in the grass, the Greek nursery rhyme my dad used to do with us kids, a longing for magic. I had the title in mind for a long time and knew I wanted to write a creepy story that involved rabbits. I'm obsessed with the bunny that is a regular feature in our backyard (she's even inspired a song: https://soundcloud.com/user-813410984/bunny) and I will stare out the kitchen window for ages watching her. I speculate endlessly about her life and activities, wondering where is her nest, will her babies survive, where does she go in storms, what is she thinking … I even avoid parts of the yard so as not to startle her and I apologize when I do.
ULRICH: I love learning something new from stories, like I didn't know rosemary was associated with remembrance and death until I read this! Is that tidbit from your storehouse of knowledge, or is it something you looked into for this story?
BELLAS: I collect strange bits of knowledge and chase after whatever shiny subjects catch my attention. I've always been intrigued by things like the secret language of flowers in Victorian times or what different plants symbolize, and books such as "The Meaning of Herbs: Myth, Language & Lore" and "Culpeper's Colour Herbal" and "The Grammar of Spice" live on my bookshelves. Rosemary for remembrance is a phrase that's been stuck in my head for years.
ULRICH: The specific imagery in this story is so powerful, the red plastic shovel for burying bunnies, the wreaths of dandelions. Were these elements present from the beginning or did you add them in later?
BELLAS: They were there from the beginning. I saw and felt and tasted everything vividly as I was writing. I tend to write slowly and revise as I go so I'm not usually adding things later. I'm more likely to be taking things away at the end or agonizing over a specific word or comma.
ULRICH: The Greek just sings in this piece. How important was it to you to include it? (And thanks for kindly providing translation, by the way!)
BELLAS: Thank you! It was essential. This story wouldn't exist without the Greek. It's at the heart of the piece — the nursery rhyme and lullaby especially so, as I think of those in Greek, not in English. An interesting side note, an aunt in Greece taught me that lullaby and it's one I've sung over the years to all nine of my nephews and nieces, as well as to friends' babies. I assumed it was a traditional lullaby but found out from a cousin after this story came out that it's actually the chorus to a pop song from the '70s!
ULRICH: The main character is so sympathetic and real that the ending is entirely unexpected. And yet, it isn't. Did you know when you started this piece how it would end?
BELLAS: I didn't know what was going to happen. I spent days in this world waiting to find out. I often write three-quarters of a story relatively quickly and then reach a point where I have to stop. That waiting period could be a few days, months, or even more than a year. I carry the story within me and I think about it and I try things out in my head and I wait. A long time ago I came across somebody quoting Michelangelo about how the sculpture already exists within the stone and it's simply the artist's job to reveal it. That's how I feel about the endings to my stories — that they, in time, reveal themselves to me.
ULRICH: The atmosphere of this story is so deliciously dreamlike, almost a fairy tale, something to get lost in. Do you ever have a hard time leaving the world of a story behind when you've created it so deeply like this?
BELLAS: Definitely! I felt a bit like I was under some enchantment writing this story and I wanted to find out how things would unfold but I didn't want it to end. I still think about this character and wonder if I'll see her again.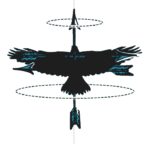 You can read Georgia's story, "The Rabbit Goes to Drink from Your Throat", here.
Logo by: Robert James Russell