"[ ] of color is the white-tongue's way to rip us of all the names our body's wear" was selected for THE BODY poetry longlist. — I. I watch the several tall business men Duck into the bathroom one after the other. Like shadow. I am trying not to notice something, that in my noticing, will take something from me. I am trying not to let this too, take something from me. Men are so prideful and growing Descendants by the day. I try not to become Their descendants. Instead, I busy,         Fathering myself— The dusk girl born stall-wind. Swallowed by oak and pre-dawn Sun tones                        (a light  for the street     becomes a light in the throat of  my lover                      —        easy) The heart I factored from my own palm, shakes into the arch. The fear begins to grow itself backwards. And from my body, I fake a stack of twigs sharp enough for a small willow. Each long-tongued branch of Blackness         a softening. II.

I have spent so much

on this awful & beautiful     life. I have spent      more than I'm willing to share. How many memories  go this way—   My several fading selves                        bent over, at the foot of This forgotten kingdom asking:         what am I?                   The undone codex of wars         barrels atop my skin            and washes down          my own desire to          straddle            queer to            straight / passing                                                           Still      the definite, the blood-pulse,      pours / for her / for him / for them  

& I have been ordered    to wash            these clues       from my tongue.

Have been sent                         to arch bereavement

over  bereavement at the site of  god's    last remaining blood-stone And in this garden everyday grows like a question I can't control.                        the sidewalks I shuffled      from misery            to mercy and      at each grappling step               of my wrist,      the wit  of my               Lower back

so many of the wrong feasts                                    flowered,    Heavy            —

my deep-turned wail shaped please onto  my lips —        the dear thing I call when I must make room for the claim in his touch | his touch | his touch                   Tended like this, all            of my bodies grew — Unwilling to become a place I can call Bearable.                                             Oh Lord, how dare you make me like this? I have laid in the bed     of witness where belonged                    My Solitude.    My anger. And instead have put                my       self                               across the track of    White Subjectivity. Person of Color always sounded to me like—                    "Look, I am wearing the wars of my people on my skin and you the wars of your own"                    Like melody     and unity          and      sugar-shook off the rotting vine —             until you remember they were never                   our wars. —

Erin Noehre is a second-year M.F.A.candidate at Arizona State University, where she is an Associate Editor at Hayden's Ferry Review. She placed 1st in Poetry for the 57th annual Glendon and Kathryn Swarthout Awards in Writing and her work can be found online at The Poetry Spot feature in AZCentral. She, like most poets, enjoys casting her worries up to the moon, dancing towards the brink, & being dangerously over-caffeinated at all times.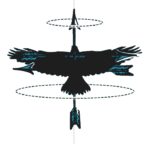 Artwork by:
Mobola Odukoya