The first time a girl came in my mouth, bucking and loud, I took it as a sign. I felt like I could fly. Pussy was rocket fuel.
By the time I asked I'd already made up my mind.
"What if I run away from home?"
The girl was older, responsible, headed back to Austin and college. I was sixteen, punk, half-feral.
She tried to warn me off.
"You could be throwing your life away."
I thought that sounded perfect. Both of us were right.
She was in Lubbock to see where so much music came from. That plus Prairie Dog Town took twenty minutes.
We walked block after block of silent, empty streets.
She said, "It's like a ghost town."
We fucked for lack of anything better to do. After a few days she went back to Austin. I didn't go home.
From the time I knew what it meant to run away I knew I would. The girl on Runaway Hotline posters called to me like a used car salesman. She stands in the rain, in black and white, holding a sign that says ANYWHERE, meant to discourage me. I thought she looked like home.
When I was nine I thought I could take off from the coast, Corpus Christi or Padre Island, during a family trip. I could walk east along the shore and eventually reach New York City. It wouldn't be easy—the Florida panhandle looked like a bitch—but if I stuck to my plan I wouldn't get lost. I'd keep a low profile and steal to eat for two thousand miles.
The first time I ran away I was twelve. Too young. Lubbock was too small, too flat and empty to keep me hidden. Dubiously gendered, marred by freckles, topped with bright orange hair, I was a walking signal flare. Still, it took the cops three days to spot me in an alley, chase me down, and bring me in.
At sixteen I was more than old enough. This time was different, a new beginning, a decision made in a moment of joy. I felt full of confidence, bathed in happiness, like just the right mix of antidepressants.
I didn't have a plan. I had no thought beyond go. I was in a borrowed room, in a borrowed bed, my face wet as a newborn.
—
Robin Storey Dunn grew up queer, punk, and feral. She was living on the street when an all-Black spirtualist church took her in. For ten years, she lived an ascetic, communal life with them but never quite made saint. She currently lives in Austin, Texas with her wife and is querying a memoir manuscript, Kindness, excerpted at www.robinstoreydunn.com.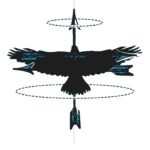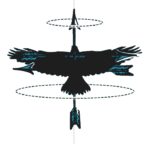 Artwork by: Tracy Houser