Are You Taking Notes? [notes on baptism] jesus is lord in a hotel jacuzzi everything sacred—after its been drowned in chlorine & steam & cleansed my sin is a towel i can leave behind for someone else to clear up later + [notes on church] jesus is lord  in a high school cafeteria now a deserted wal-mart & an apartment clubhouse or any place i can take my pants off—to reach—gawd my body is the temple everybody needs to enter + [notes on camp] jesus is lord when the night heaves stars when the moon leans scorpio gyrating over our campfire & i whisper money into waxing gibbous my faith is roughly the size of a bug-spray can. + [notes on mother] jesus is lord even before & after & during & after i tell her my world is too big for any one man & after i say my gawd is a woman & before i say she feels good in my mouth & during my dreams & after i say i don't see how you don't see Her. Graveyard Gxrl I am 300 nights of prayer        a casket of rain a tile in the shaman's palms I was intended this way      a literal wine I am always soaked down to the thighs I am the last lost translation     I, a shade of dissonance      castrated & made womxn How lovely     how they don't know what I always was How the room waxed chiffon & jasmine the last time I made love     opened as a levy How the sheets blushed when they finally learned my name      incinerated after How it only takes a little rouge       a little whiskey to make me calypso      to make me thick with affairs I am known for the number of men I forgive nightly I am known      to forgive        nightly I take each of their faces        bury them down like sour lemons        suck on the molten bodies of a dozen drowned suns         make them quick to wane in my thrust         quick to squeeze & burst in my hands How lovely         the violence

unaltered          & honest       &        messy

grapes pinched between my lips            ruin & stain

swim down the gully      awash & wade

I swallow

lest I see green waves dancing down the drapes not desperate      just hungry        for land like mine hungry for these origami legs to wrap around the sound of my greatest collapse in a decade           cough & drown — Faylita Hicks (she/her/they) is a writer, performer, and directly-impacted organizer working with Mano Amiga, specializing in criminal justice reform in rural communities and the cultural impact of trauma on queer black people. They are the author of the poetry collection, HoodWitch (Acre Books, 2019), and the Managing Editor of Borderlands: Texas Poetry Review. They hold an MFA in Creative Writing from Sierra Nevada College and were awarded fellowships from Lambda Literary and Jack Jones Literary Arts. A finalist for the 2018 PEN America Writing for Justice Fellowship and Palette Poetry's 2019 Spotlight Award, they were also awarded grants from the San Marcos Arts Commission in 2017 and 2019, received a residency from the Vermont Studio Center, and were accepted for the Tin House 2020 Winter Workshop in Nonfiction. In December 2019, their incarceration story was featured in PBS's Independent Lens Documentary Series. Their writing has been published in or is forthcoming in Adroit, The Cincinnati Review, Color Bloq, Cosmonauts Avenue, Foglifter, Foundry, Glass Poetry Series, Huffington Post, Linden Avenue, Poetry Magazine, Prairie Schooner, The Rumpus, Slate Magazine, Tahoma Literary Review, and The Texas Observer among others.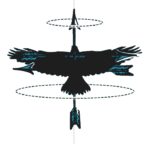 Artwork by:  Jan Koetsier