1.1
Ronald is not who you think he is.
1.2
The last time I saw Ronald—who goes by Ron, actually—was yesterday. He was sitting on the steps of 734 Marcus Avenue, holding a scratch-off in one hand and a half-eaten bacon, egg, and cheese in the other. Dark storm clouds were rolling in the distance, and between coughs and telling jokes to my pup Abby, he'd glance downtown at the angry skyline.
Another neighbor walked by. Ron stood up, crumbs falling from his lap. She was Isabelle, a young woman who had just moved to Harlem from Lyon, France. She was tall and slender, her black hair dyed electric yellow. Her long, white kimono just grazed the sidewalk, and her tanned fingers clutched a small red patent leather purse.
I could not arrange her in my mind. Ron and I gazed her into eyes, and the imminent storms seemed very far away.
Lauren, he whispered, don't you think she's divine?
1.3
Ron cleans. He spends the days sweeping the streets and removing potato chip bags, cigarettes, dirty leaves, and soiled napkins from the curb. He pulls them into a dustpan and empties it all into a grey, industrial-sized Rubbermaid Brute trash can on wheels.
Ron laughs. When he does, his giant tree body stands tall and shakes. He does not quiet himself. His laughter rises above the honking, above the sirens; his laughter is louder than the whispers and sneers.
Ron collects. He wears a gold necklace with a large, sparkling cross that he found in a puddle on the street. He told me that God had chosen it just for him. He also wears a plastic wind-up toy dog tied to his belt—the cheap, breakable kind of toy a child might find in a Happy Meal. Ron discovered it balancing atop a fire hydrant on 148th Street.
Ron waves. Eagle-like. Last week, he stood on the corner and slowly moved his wing arms up and down, up and down, to get my attention.
1.4
I met Ron during the one of the most tumultuous periods in my life. I wasn't sleeping well—endless nightmares about intruders breaking in and touching me—and didn't have much of an appetite. I had just moved to this new neighborhood, which in a city as diverse as New Yok can feel like landing on a different planet. Maybe it's because everything was changing—or maybe it's because my hands kept trembling and couldn't bear if people noticed me—but I was drawn to Ron's consistency, his reliability. I saw him every day. He was always sitting on the stoop of 407 West 150th Street or pushing a garbage can along the block with a broom underneath his arm. Whenever I asked him how he was—How are you, Ron?— he always replied: Never better.
1.5
Ron has the largest hands I've ever seen. They are easily twice the size of my own hands. Ron is gentle and Ron is kind. He would never hurt me. Yet, when I look at his hands, fear takes hold of me in a way I cannot control.
1.6
Sometimes when it is early and quiet, I imagine Ron as a child. I close my eyes and picture him in a sinking brick apartment building. Loud adults lean on yellow walls and linger among split bags of rice, stacks of aging newspapers, empty cans of tuna fish. The apartment is full of sadness and anger the quiet understanding that everyone gave up a while ago. I see Ron, a wiry little boy with large brown eyes and smooth skin. He is alone in his mother's bedroom, away from the people arguing and swearing. He opens the drawer of her bedside table and eyes the Bible, runs his small fingertips along the gold-trim pages. An older man then storms into the room, grabs his wrist, and pulls him to the floor near the bed. I see the back of Ron's small, tender head smack the floor in slow motion. Does it bleed?
I then see him at night, hiding in the corner of the living room under a table, trying to disappear the darkness and the screaming and himself by staring at the place where the floor meets the wall. Many minutes pass, but he doesn't notice. He is mesmerized by the boundary.
1.7
Ron told me that when they arrested him back in the day, the handcuffs wouldn't fit around his large wrists. They forced them on anyway, and the metal cut through his skin so deeply that they left scars.
1.8
I want Ron to know he is important to me, but I don't want him to rely on me. I am afraid he will ask me for something that I can't give him.
I am afraid of anyone relying on me because I am afraid to rely on anyone.
1.9
I think Ron lives in the blue, four-story apartment building on the corner of Marcus Avenue and 150th Street. I'm not sure, though, and I don't want to ask him. I sometimes imagine him inside his apartment. In my mind I see him standing in front of the sink, scrubbing thick grease off of a frying pan. Just for a few minutes, and then he drops the pot and lets it soak in the suds. I step into the scene like a ghost and glance around at the cracked linoleum floors, the scratched window screens caked with everything. I touch the piles of coupons, the ashtrays.
Ron stands in front of a dim mirror in the bathroom, picking his remaining teeth in the fluorescent light, smoothing his hair to the side to examine the white, all that new white. He pushes aside several empty cartons of take-out from Texas Star diner and collapses on the couch. He slides on his black frame glasses, turns on the television, opens the Daily News. He smokes cigarettes, the kind with the sweet-smelling smoke. He scans the classifieds, checks out the ads with the girls. They make him feel more like a man, but also guilty and sad.
1.10
It was my second summer in Harlem. The sun was sinking low behind the river. Ron and I had been sitting on the stoop, and after an hour or so, I told Ron I had to go home and get some food. It was my dinnertime, and Abby's too. We turned down the block to head toward my apartment.
 Okay, dear. Enjoy. Love you.
 Those words left his mouth, ricocheted off of me, and scattered all over the sidewalk. I eyed his broom, wondering if I could sweep them into the dustpan and offer them back to him. It would be messy, though. Ron deserves more than that.
I walked away and left the words on the sidewalk. I knew he would have to clean then up, and that made me feel like garbage.
1.11
One Friday night, Abby and I were sitting on the steps of my apartment building. It was late September and cool breezes from the river swept by us, whisking away the last of the mosquitos. I knew they'd come back next year; they always do. It was late—eleven or so—and the block was quiet except for the din of someone's radio a few houses down.
In the darkness I heard the sound of someone sweeping the street. Abby and I both turned our heads at the same time. Before we saw Ron we knew it was him. Abby's tail started wagging, and I too felt happy that he was outside. Abby couldn't contain her excitement and lumbered down to the gate. I followed her down the steps. When I placed my hand on the gate to open it, I glanced down the block. In the distance I could only see the back of Ron's heavy brown coat, and he was walking away from us. He was too far away to chase, and after a moment's hesitation I realized it was maybe just a little too late to say goodnight.
—
Lauren Krauze is a writer based in Brooklyn, NY. Her work has been published in Tricycle: The Buddhist Review, Hobart, Painted Bride Quarterly, PULP Magazine, Duende, Frogpond, and an assortment of other journals. Lauren lectures at Parsons School of Design and teaches writing workshops at The Rubin Museum of Art. She holds an MFA in Creative Writing from The New School and a BA in Journalism from New York University.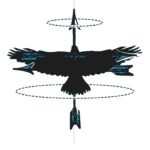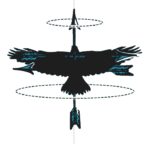 Artwork by: Julia Hornsby