Diving Through to the Other Side: A Lesson With Meg Tuite
What frightens us? What takes us to those uncomfortable places? This is an area I like to plunder because I find the most treasures. And not just in our own unique experiences, but listening to what people say to each other and interpreting what we believe they are really saying through their body language and emotions rather than their words. Secrets are what manifest the different personas we put on to get through another day of work, when meeting someone new, going on a date, hanging with our family, buying a car, interviewing for a job, or sitting next to someone on an airplane. Think of how many stories you've kept from family and friends. Perhaps because I worked in hospice for over twenty years I've come to find what people want to disclose most are those experiences they haven't shared and need to bring to the light with someone outside their inner circle who they don't have a history with.
Flash fiction tends to be under 1000 words. Today we are going to try to write something that is around 500 words or less.
Tobias Wolff: "I believe that the short story is as different a form from the novel as poetry is, and the best stories seem to me perhaps closer in spirit to poetry than to novels."
Raymond Carver: "I like it when there is some feeling of threat or sense of menace in stories. For one thing, it's good for the circulation.  There has to be tension, a sense that something is imminent, that certain things are in relentless motion, or else, most often, there simply won't be a story. What creates tension in a piece is partly the way the concrete words are linked together to make up the visible action of the story. But it's also the things that are left out, that are implied, the landscape just under the smooth (but sometimes broken and unsettled) surface of things."
https://www.wsfcs.k12.nc.us/cms/lib/NC01001395/Centricity/Domain/796/little_things.pdf
One of the scariest stories I ever read was "Where Are You Going, Where Have You Been?" by Joyce Carol Oates. She said she got the idea from a newspaper article. It still gives me the chills! She wrote it in 1966:
https://www.cusd200.org/cms/lib7/IL01001538/Centricity/Domain/361/oates_going.pdf
From: Introduction to The Rose Metal Press Field Guide to Writing Flash Fiction
"To say that a flash must contain all the literary elements that a longer story does would be argued against by the proponents of experimental flash who lean more toward slice-of-life sketches. In the end, a flash is simply a story in miniature, a work of art carved on a grain of rice-something of import to the artist or writer that is confined and reduced, either by design or outcome…"
Check out how George Saunders ratchets up the tension in his story "Victory Lap". We are reading the action as it is happening and watching it through the eyes of a character. We don't know what will happen, even close to the end.
https://www.newyorker.com/magazine/2009/10/05/victory-lap
Most times while writing I have no idea where the hell I'm going. I may start with an image, but as I keep typing that original is morphing into something completely deranged and more interesting and disfigured. Let yourself go with surprise and wonder and watch how those words trip over each other and maim everything you imagine into a whole new wonder world.
*    *    *    *
One of my favorite anthologies is Show Me All Your Scars: True Stories of Living With Mental Illness. Here are some quotes:
"Dad waited in the hallway while I went into Mom's room, eager for proof she didn't belong in this place. She was lying in bed so still she seemed lifeless, like her spirit had left and only its carcass remained. She looked tiny. She reminded me of an old rag doll that had been abandoned. How could this person be my mother?" Leslie Smith Townsend
"Time is swift…and sluggish. It bottles me up and I am swallowed into its darkness. It moves like oceans, and I bob along inside my bottle. The waves carry me as the moments tick on and on and on, and I sleep. Hours, then days, weeks, and I sleep. Seasons rise and seasons fall, and time goes on, and I sleep. Centuries pass and civilizations die, and when I finally wake up, I am standing at the kitchen sink, scalding water pouring onto my hands, and I stare at them as if they aren't mine. As if they never were." Chloe Mattingly
Maggie Nelson writes: The Red Parts: Autobiography of a Trial, which is a non-fiction story of her Aunt's murder. Here is a quote:
"Jane had said all the things to their parents that my mother couldn't or didn't say–the big Fuck You (or in 1969, You racist pigs). As a result, Jane was no longer welcome in their home. If Jane hadn't been estranged from her parents, if she hadn't been worried that they wouldn't accept her decision to marry a leftist Jew and move to New York City, she wouldn't have been coming home alone on March 20, 1969. She wouldn't have advertised for a ride on the ride board, and she wouldn't have ended up with two bullets in her head, stretched out "puffy and lifeless" on a stranger's grave in Denton Cemetery the following morning, her bare ass against the frozen earth, a stranger's stocking buried in her neck."
And the brilliant Janet Frame who lived through over a hundred 'electric shock therapies' and was almost given a lobotomy. She was saved by a writing award bestowed on her by the French who arrived that same day.
She had originally been put in this psychiatric ward because she wanted to read rather than go outside and play like the other children. Fucking manslaughter!!!!! I highly recommend reading any and all of her books. She doesn't follow anyone's path. She is a genius.
Here is a quote from Faces In the Water:
"And the confused elderly ladies are wandering up and down in their crumpled dresses, with concertina ripples in their lisle stockings, because when they were dressed in the early morning perhaps their garters were missing from their "bundle." They are rattling on the locked door, trying to get out, to "see to" things or make sure of something which has intruded from their past and demands their immediate attention; they need to talk to people who are not there, to minister to the long dead–to make cups of tea for tired husbands who are beyond the dayroom and the grave. Voices convey to them urgent messages; they are beside themselves with anxiety; no one will listen to them or understand." 
Sometimes it's hard to start writing when faced with a blank page. Focusing on an unrelated prompt for a while helps get the creative juices flowing. If you write for just ten minutes on a prompt, you should then find it easier to return to the piece you intended to write. You may also find that if you stop trying to think so hard about what you wanted to write and switch your attention to the prompt instead, the words and ideas for your original piece start to come to you after all.
The things you write in response to a prompt may also end up as worthwhile material in their own right. The prompt may give you ideas from which a complete story grows or you may get fresh ideas for another piece you are already working on. It's often surprising how much material you come up with once you start.
Writing to a prompt regularly helps to get you into the habit of writing. This can act as a sort of exercise regime, helping to build up your "muscles" so that you start to find it easier and easier to write for longer and longer.
Below are a few prompts that might help to get you moving. If you already have something in your head than keep it rolling. Otherwise, check these out and see if something transpires:
Prompt:
Write a story in which there is miscommunication between the characters. Interpret this statement in any way that works for you. Dialogue is fascinating when the characters who are engaged in it are verbally tunneling down different avenues.
Prompt:
Think of an intense moment, either something life-altering that happened to you, someone you know, or one you just made up. Make it something truly intense and extreme, something that might change someone forever. Now, think of just a few minutes before that incident occurred. Start there. Just a few minutes before, an hour at most, go into the event, then end as abruptly as you can, either before or just after the climactic moment took place.
Prompt:
Take out four sheets of paper.
BLANK PAGE #1
Write out these questions at the top of the page:
What secrets have I kept? What secrets does my family hold? What secrets have I felt safer telling strangers than friends? What is it I'm afraid people will find out about me?
Write for ten minutes free-form on thoughts that come to you from the past and present events or fantasies that you have kept to yourself. Let these questions help guide you down new territory. Attempt to keep your pen to the page as you write. Let your mind wander as you imagine these hidden channels.
BLANK PAGE #2
CAPTIVATING WORDS
Make a list of beautiful, intense, strange poetic, haunting, scary words that resonate for you. Take another ten minutes and use a thesaurus if it helps to pull out these beauties on to the page. Make sure to mix up the nouns, verbs, and adjectives.
BLANK PAGE #3
CHILDHOOD OBJECTS
(Ex. That torn up pair of gym shoes you kept in the garage, the mood ring, the toilet seat cover knit by your grandmother….)
Circle five items from each list that bring up the most emotion, fire, wonder
BLANK PAGE #4
Write five sentences using one SECRET/CAPTIVATING WORD/CHILDHOOD ITEM circled from each list.
Take those sentences and start writing from there. You can move the sentences around on the page, but try to pillage some great memories from these beauties. Keep writing until you have a story of around 500 words long.
 GREAT JOB! THANK YOU FOR JOINING ME TODAY!
VIRTUAL HUGS, Meg Tuite
—
Meg Tuite is author of four story collections and five chapbooks. She won the Twin Antlers Poetry award for her poetry collection, Bare Bulbs Swinging. She teaches writing retreats and online classes hosted by Bending Genres. She is also the fiction editor of Bending Genres and associate editor at Narrative Magazine.  http://megtuite.com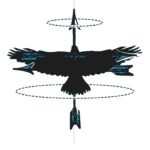 Artwork by: Riccardo Bresciani