trickle down
this morning, Venus and Jupiter
cross paths in our starwet sky–
pitch, untouchable, careless sky,
our flat Florida sky, sick with names:
FedEx, Jet Blue, Southwest, United.
even the passing clouds are planets
labeled by corporate deities
who bought groundwater before storms.
we know each brand of downpour:
Nestle, Yum! Brands, Coca-Cola, J.P. Morgan Chase.
soon they'll purchase sweat, claim urine
and saliva to own the flow within. all this sky
is torrent and all the earth is flood,
our bodies will torrent and flood;
our fingers, organs, faces molt to rain
drip by tiny drip, until, we hope,
we don't know if we're cloud or planet,
we don't know who bought inside of us,
don't know names, or shapes, or what's gone.
daily routine
up.up.up. my american goals today: must use word 'busy' once per hour, bonus points if in response to 'how are you doing?' busy-busy-busy, must eat my bodyweight in stale desk candy, must ignore the subtle-gnaw at my sanity. collect all the points today. points for the credit card, points for my gamified language learning software, points for interactions with strangers. true we are all made of stars–i am made of exactly 4.5. a good day is a day cushioned with manufactured figures. 'how am i today? can't you see all the points?!' up.up.up. nirvana is some sort of forty digit number only achieved through accumulation. busy-busy-busy.
—
Brendan Walsh has lived and taught in South Korea, Laos, and South Florida. His work appears in Glass Poetry, Indianapolis Review, Baltimore Review, Wisconsin Review, and other journals. He is the author of 'Make Anything Whole' (Five Oaks Press), 'Go' (Aldrich Press), 'Buddha vs. Bonobo' (Sutra Press), and 'the only flesh to feed you' (YellowJacket Press). He's online at www.brendanwalshpoetry.com.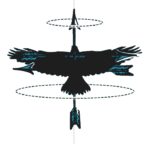 Artwork by: Grae Dickason